A1 Meters:
The A1 Commercial Grade Series are identified by an A1 prefix. In addition they are packaged in a self contained unit and come with a choice of 2 materials, Aluminium and Nylon. This meter is basic, yet accurate and durable. The Aluminium meters are great for use with petrol, diesel and kerosene. However the Nylon meter works best with water or non-aggressive chemicals. Included with both meters are NPT fittings and an electronic display which reads in gallons, litres, cubic feet, cubic meters, ounces and cubic cm.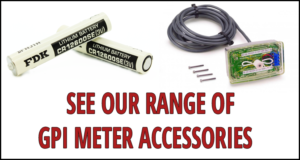 Features and Benefits:
Compact, lightweight design which makes installation easier
Output capabilities available to communicate with process control equipment
Powered by Lithium batteries for long life
Local display computer features: 2 totals, (1 re-settable, 1 cumulative); User calibrations and flow rate
Package combines turbine and LCD into a self-contained, compact, economical meter
Aluminium Meter Sizes: Low Flow, 1", 2"
Nylon Meter Sizes: Low Flow, 1"
Accuracy: +1.5% of reading (on models A100, A200 and N100)

YouTube
This video defines in detail both the aluminium and nylon models.